AIGA Jacksonville is excited to present you with a lovely heart-shaped box for 2017's I Love Design event. What's in the box, you ask? What's in the box?
I Love Design is dedicated to our wonderful members to show how much we heart you and your love of design. The event brings in renowned designers and industry leaders, giving you the chance to see their inspiring work and hear firsthand their stories about creating it. Kyle Cooper is an Emmy Award-winning designer who was named an AIGA Medalist in 2014. He earned his MFA from Yale, where he studied with the legendary Paul Rand. He is considered the creator of the best main title sequences of the last two decades and has worked with the likes of Martin Scorsese, John Hughes, Robert Redford, Oliver Stone, Brian De Palma and other film-making icons.
---

6:00pm - Cocktail Hour
7:00pm - Kyle Cooper
8:30pm - Q&A



$10 until March 1
$15 after March 1




$25 until March 1
$30 after March 1


---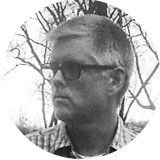 Kyle Cooper, Founder of Prologue Films and Title Sequence Designer

"Whatever your hand finds to do, do it with all your might." These words from Ecclesiastes 9:10, oft quoted by Kyle Cooper, embody the spirit that has made his film sequences iconic. Fittingly, they apply to his most influential piece to date: the main titles for the film Se7en (1995), where we watch a psychotic killer's hands in the throes of creation. This maniacal sequence—every one-frame cut was considered—became a phenomenon, bringing main titles to the attention of the public and inspiring countless designers to pursue the craft.




Many thanks to the talented team at TigerLily Media for sponsoring this year's event!