Morgan Goodwill | November 2023
Each year, graphic designers and artists based in northeast Florida look forward to AIGA Jacksonville's Design+Music poster show. The Jacksonville chapter returned to its roots and hosted its 15th annual show at CoRK Arts District. With over 90 poster submissions, the atmosphere was filled with inspiration, excitement, and streams of musical consciousness.
"The Design+Music Poster Show is a crucial event for our chapter. It raises awareness, acts as a fundraising event, and most importantly helps support our creative community," said Cassie Deogracia, AIGA Jacksonville President. "Every year, I see incredible connections made and friendships being formed."
As people entered the gallery, they were greeted by walls adorned with various musical genres, ranging from metal to folk to rap. The Design+Music exhibit aims to merge the creativity found in both music and art, allowing designers to showcase their skills by creating posters featuring their favorite artists, bands, albums, or songs. The pieces featured a diverse range of type treatments, illustrations, and photography, highlighting the talent of Northeast Florida & beyond.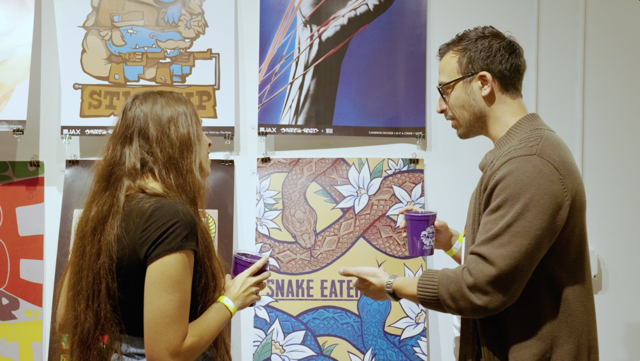 "It's so much fun to see everyone enjoying this event, especially those who submitted a poster. I love to see these artists taking photos with their work and hyping up their fellow creatives during the show," Keith Lowe, programming chair, expressed. "It really showcases the connection Design+Music has with fueling creativity while also giving artists their due by having their work displayed at this unique event."
During the night, there was a friendly competition among the guests where they could vote for their favorite poster. There was a first-place tie between designers Dani Simmons and Eric Moresea. Simmons' poster for LeAnn Rimes' "Can't Fight the Moonlight" was an explosion of bright colors and original illustrations that truly caught the eye. On the other hand, Moresea's poster for Faith No More's "Ashes to Ashes" was more minimalist, playing with simplicity and texture to create a striking piece of art.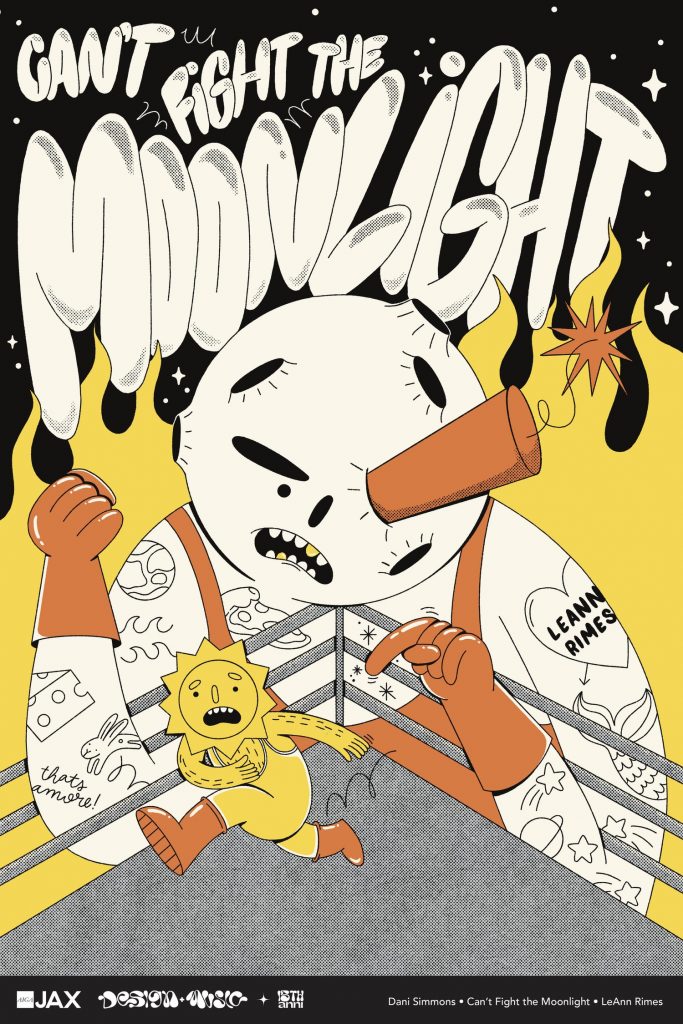 "I feel so honored! I'm surprised to have tied for 1st place since there were so many awesome, strong entries in the show. Graphic art for music is and probably always will be my favorite application for design, and I'm grateful to have participated in this wonderful annual event. It's such fun celebrating & sharing your art with the public & fellow designers," Moresea continues, "I'm thankful to the Jacksonville chapter of AIGA and all of the sponsors for holding it. I can't wait to participate next year!"
Surrounded by string lights, drinks, Mumbai Delight's Indian street food, and tunes, guests experienced a backyard festival-like celebration. Lowe, who spearheaded the event, worked with local musicians Luci Lind, Ducats, and Carmen, along with DJ Juan Torres, who provided a house party experience inside the venue.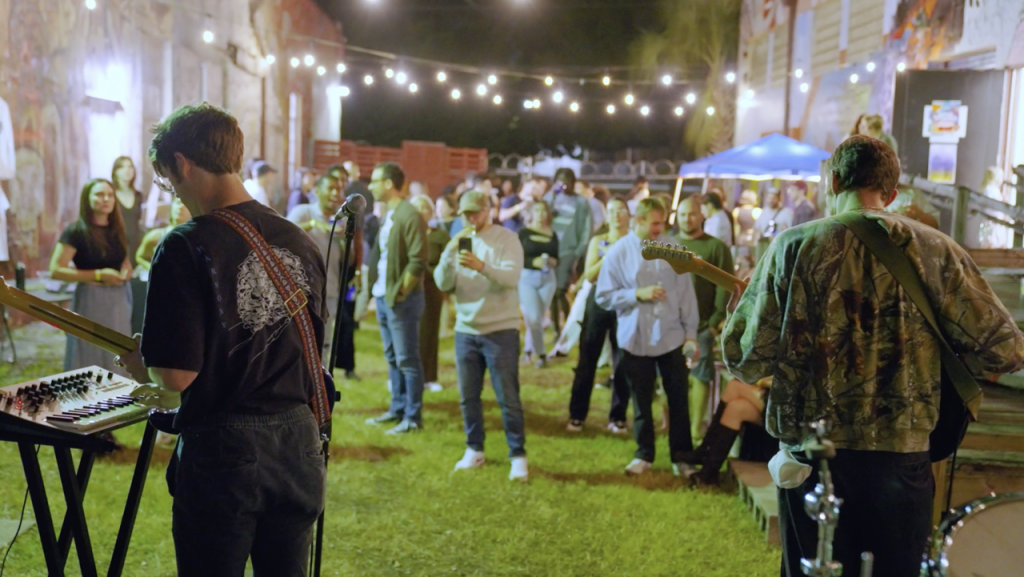 Lowe mentions, "Showcasing emerging talent in Jacksonville is what this show is all about, local musical talent paired with local creativity."
The show aims not only to honor the area's AIGA circle but also to connect two talented and robust scenes in Northeast Florida. By highlighting what makes each industry unique, the chapter can showcase the cultural landscape and impact these groups have, leading to a deeper understanding and appreciation. Moreover, it creates an effort to foster collaboration and networking between two circles that may not always have the chance to interact.
"[Design+Music] is a fan favorite, bringing Jacksonville's design and music communities together. The artistic talent we have in Jacksonville is astounding, and I love seeing it celebrated through this event, " said Deogracia.
You can relive the memories by visiting our Design+Music 2023 photo album on our Flickr account.
---
DESIGN VOLUNTEERS
LOCAL MUSICIANS
THANK YOU TO OUR SPONSORS