Pick a movie and design a poster for it. Say what? A dream design project has just been handed to me, and my mind begins racing with the possibilities. The Thing, Army of Darkness, A Clockwork Orange, Weird Science… what movie should I pick, what will it look like? These and many other questions rattled around in my brain after AIGA Jacksonville approached me with the opportunity to be the inaugural designer for The AIGA and Sun-Ray Picture Show.
I consider myself a pretty big movie buff and I grew up in the '80s, so cult movies pretty much rule a large part of my life.  With so many movie options, I decided to put my favorites up for a vote. When the post-apocalyptic wasteland dust settled, Mad Max Beyond Thunderdome won.
With my movie selected and parameters established (two colors), I spent a lot of time thinking about characters, imagery, pivotal scenes, colors…and then I watched the movie a few more times. I recently had a "Treat Yo Self" day and purchased a drawing tablet. I wanted a poster that looked hand-drawn and was a little rough around the edges compared to a lot of the clean, sharp vector work I typically do.
After numerous sketches, I felt like I hadn't progressed at all and was becoming very critical of myself. At one point, I wanted to switch my chosen movie completely. Oh, the inner turmoil of a self-critical designer. After some reassuring words from Andy Gattis, I attacked the project with renewed energy. I went back to one of my initial sketches and began reworking it. It was the scene right before Mad Max uses the whistle against Blaster. I wanted to show the intimidating size and strength of Blaster, but also with a hint of the whistle Mad Max holds for the fans of the movie.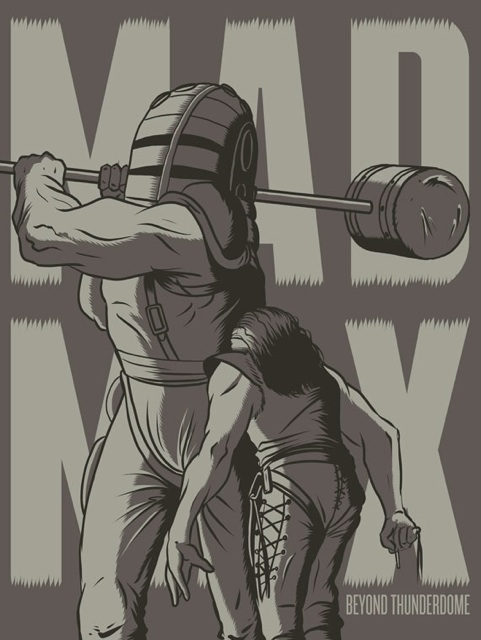 With my sketch in a good spot, I snapped a photo of it with my iPhone and emailed it to myself. Does anyone use a scanner these days? I created a 19×25 file set to 350 dpi in Manga Studio with the sketch's opacity set to 80%. From there, I experimented with various brushes and sizes until I found ones that worked well for the illustration. With only two colors to work with, I knew I had to create some depth, so I first drew the line work so it would look like a black & white illustration. Once I was happy with that, I began drawing the highlight area in grey. After I had the line work and highlights, I added the copy and cleaned up the overall illustration. I finished that, then went back and made sure the trapping was good for the final silkscreen process.
The illustration portion completed, I began experimenting with color. I wanted it to be in line with the movie's use of greys and browns to represent the desert grittiness. I actually enjoy working with a limited color pallet because it forces you to use the bare minimum while trying to make a big impact.
After colors were done, I sent the file out and waited for the results. Shocked would be an understatement. From start to finish, this was a challenging, but ultimately rewarding, project to work on and I'm happy to be apart of it.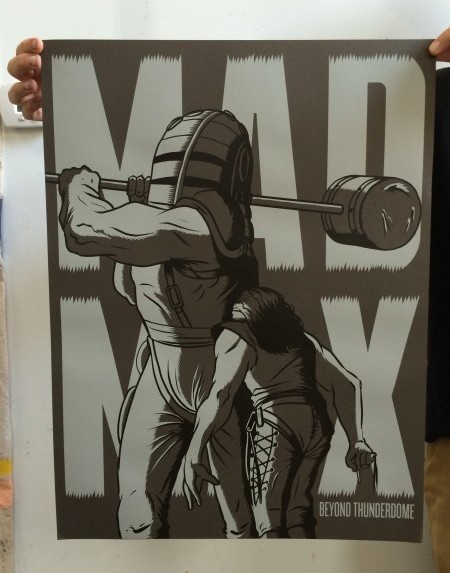 Big thanks to Jason Braddock, Andy Gattis, Brett Mosher, AIGA Jacksonville and Sun-Ray Cinema.
~ Chad Landenberger,
www.eyeswideawake.com