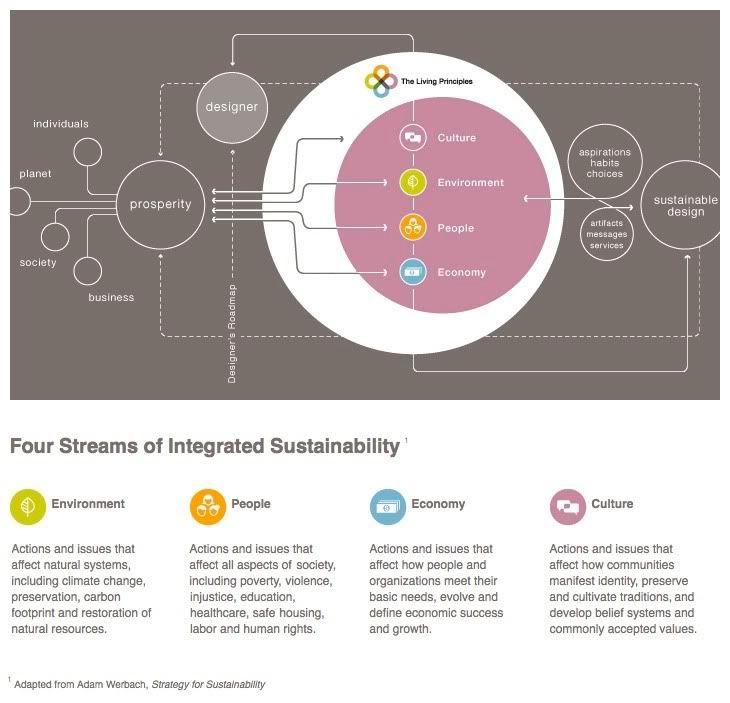 The Living Principles for Design aim to guide purposeful action, celebrating
 and popularizing the efforts of those who use design thinking to create positive cultural change.
Drawing from decades of collective wisdom, theory and results, The Living
 Principles framework weaves environmental, social, economic, and cultural
 sustainability into an actionable, integrated approach that can be consistently communicated to designers, business leaders, educators, and the public.
These principles are truly living: our collective success is dependent on the 
active involvement of partners, ambassadors, educators, studios and curious 
individuals who come together to move the conversation—and the industry-
forward.
The Living Principles website is the place where we co-create, share and 
showcase best practices, tools, stories and ideas for enabling sustainable
action across all design disciplines.
Originally conceived through AIGA, and presented by Mohawk Fine Papers,
The Living Principles are endorsed by many global organizations, including
 the Cumulus, Design Ignites Change, Design Management Institute (DMI),
 GDC Ontario, Industrial Designers Society of America (IDSA), o2 Global
 Network, Organic Exchange, The Society of Graphic Designers of Canada,
and Winterhouse Institute.
It's creative action for collective good.
Living Principles Facebook fan page | @LPforDesign on Twitter