On Friday November 4th, AIGA Jacksonville hosted its fifth installment of Design Sidekicks. In this student outreach event, college-level design and advertising students were graciously invited to shadow professionals through their day-to-day jobs and duties. Morning and afternoon sessions were spent with agencies spanning from motion graphics, corporate identity, advertising, and illustration – just to name a few.
In addition to students getting mentored by some of Jacksonville's finest, AIGA Jacksonville invited Ram Castillo, of GiantThinkers.com, to speak on the benefits of having a mentor and to promote his new book titled "How to Get a Mentor as a Designer, Guaranteed."
Ram, along with his partner Vivian and videographer Gabe, accompanied me on Friday to Jacksonville's own Frank H. Peterson Academies of Technology, a high school that focuses on multiple disciplines including culinary pursuits, communication and much more.
A crowd of over 250 communications-focused high school students were in attendance as Ram gave them the ins and outs of mentorship. He detailed specific step-by-step instructions on how to overcome personal inhibitions, find mentors they can respectfully approach, and learn from within their desired disciplines. Students filled with ambition shouted out their loftiest goals and shot up their hands when asked, "Who would like to make something, sell something for a living?"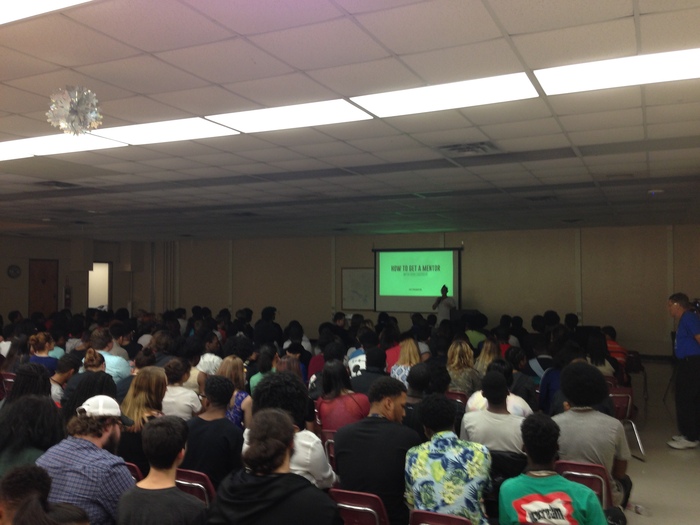 For a crowd of high school students wrapping up a Friday afternoon of classes, they were rapt with attention as Ram detailed experiences he had with his own mentors throughout the years, as well as the virtues of being a mentor to others.
By the end of his presentation, the students were eager to talk to him in person, grab a selfie or two, and purchase his new book to gain more insight.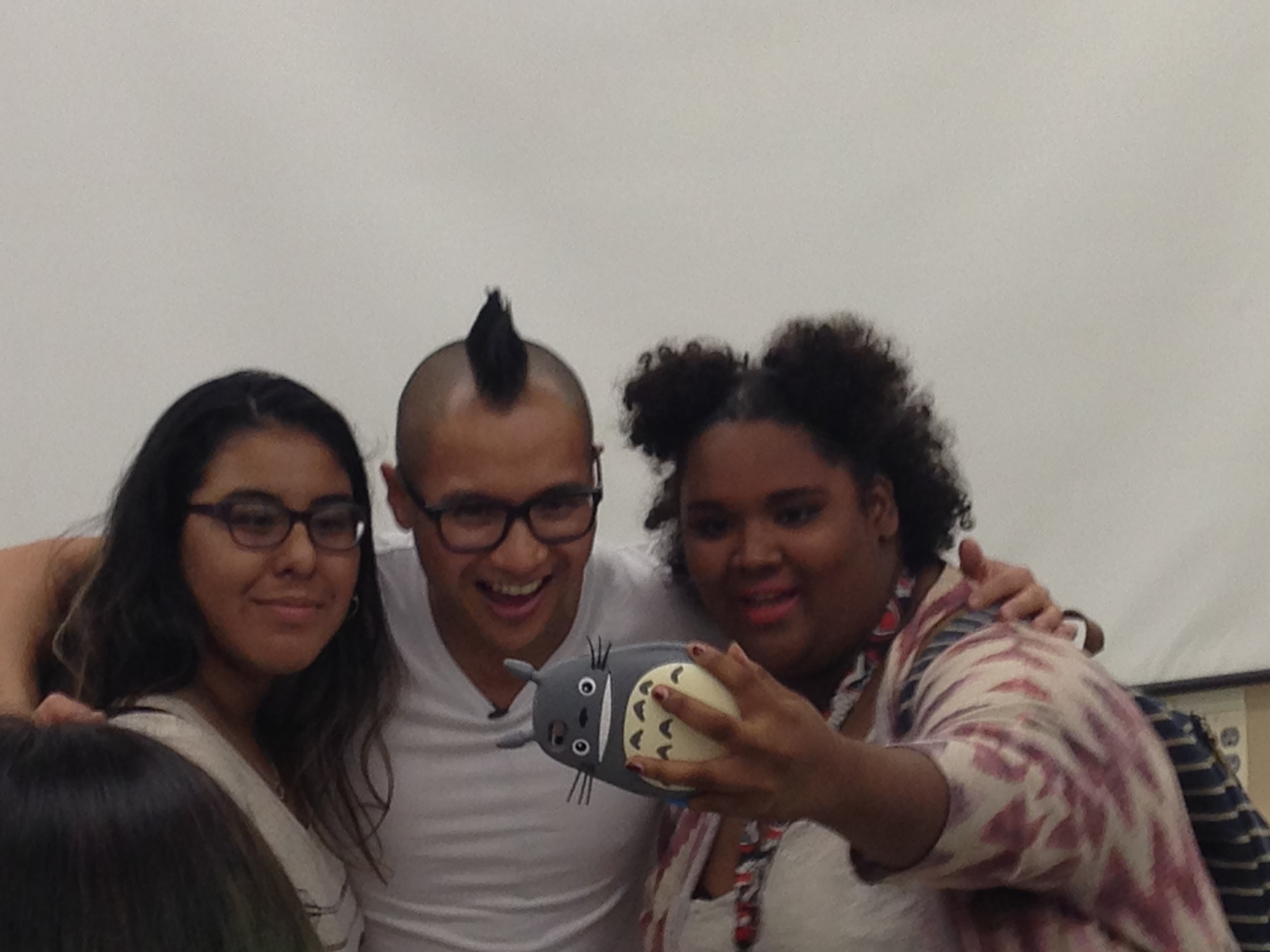 Later that evening, at MOCA Jacksonville, Ram then gave a similar presentation to the Design Sidekicks students and the AIGA Jacksonville community at large.
This version of his presentation was more oriented to the professional community, not just students. "You're never too far along to need a mentor," Ram said, promoting the idea of seeking out a relationship with those people who inspire you, no matter what level you find yourself. Closing on a tale of his travels in the Fiji Islands, he drove the point home how there are some skills best learned by putting yourself next to someone who knows the terrain in a way that no book could imbue.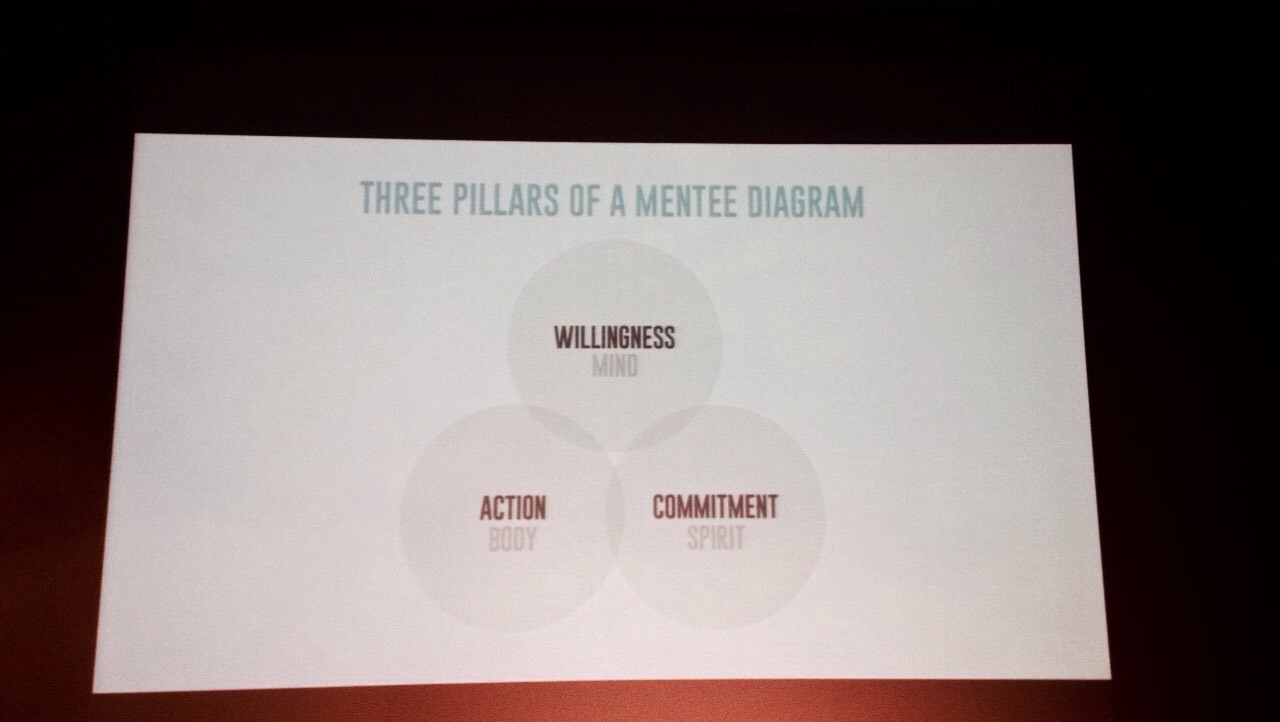 On behalf of AIGA Jacksonville, I sincerely would like to thank Ram Castillo & Co. for gracing Jacksonville with their presence, the students for taking the time to get an in-depth, one-of-a-kind experience to work alongside design professionals in the community, the mentors for welcoming students with open arms to their studios, the faculty and students of Frank H. Peterson, and the attendees who were fortunate enough to hear an engaging speaker event from Ram Castillo.
The event could not be made possible without our participating agencies: Beson4 Media, Anton West, TigerLily Media, Brunet-Garcia, Wingard Creative, DiscoverTec, Red Fin Group, Karen Kurycki (CMYKaren), and Patrick Carter (63 Visual). And of course, our Chapter sponsor CoWork Jax and event sponsor PrintJax.
We can't wait for Design Sidekicks in 2017! If you're interested in participating or learning more about Design Sidekicks, reach out to programming@jacksonville.aiga.org.
Andy Gattis
Programming Chair, AIGA Jacksonville