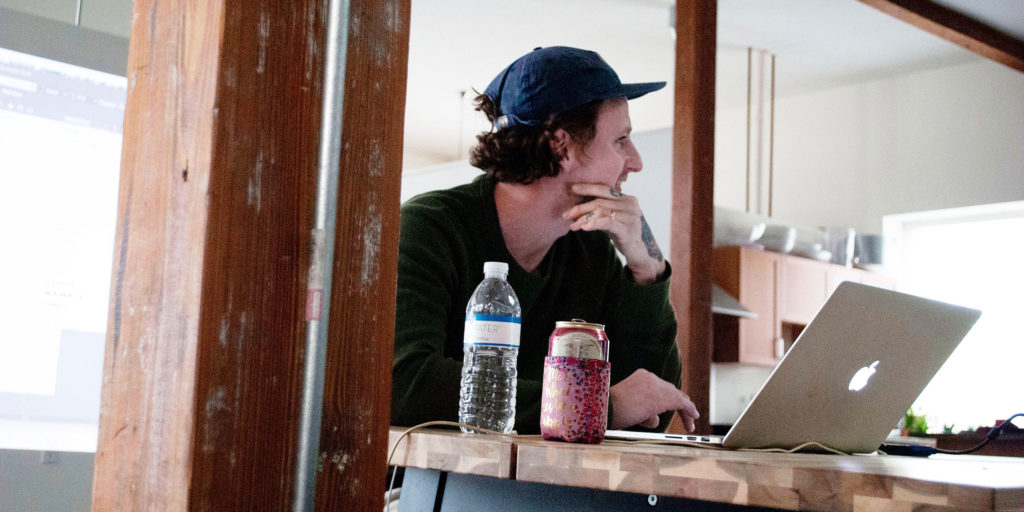 AIGA Jacksonville hosted Florida's own Joshua Noom for a fun and educational talk-shop and workshop. Noom is a real powerhouse in the design world with his bold, organic, and exciting illustrative style. His diverse list of clients includes such companies as Warner Music Group, Polo Ralph Lauren, Lollapalooza, Disney, and many more.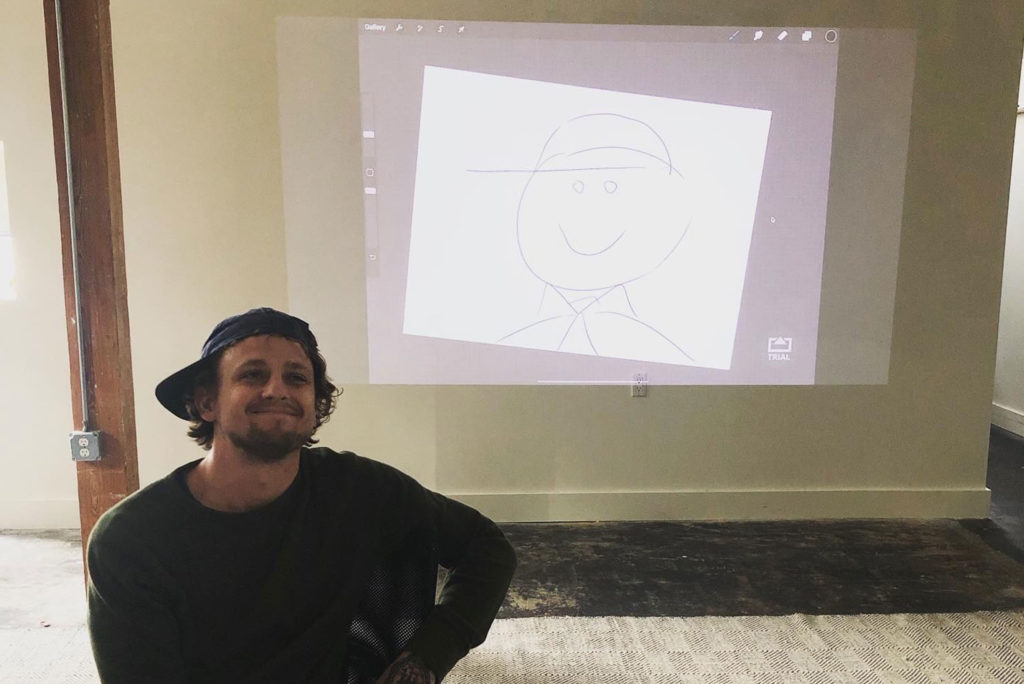 Before the workshop began, Noom gave us a brief background on his path to becoming a designer. While working his first design job making automotive newspaper ads, he created illustrations and designs for fun that eventually landed him his first freelance clients. Through that first freelance job, he started growing his client base. Shortly after, he leaped at being a freelance designer with only a part-time gig. Noom showed us that you could take a creative passion and turn it into a full-on career.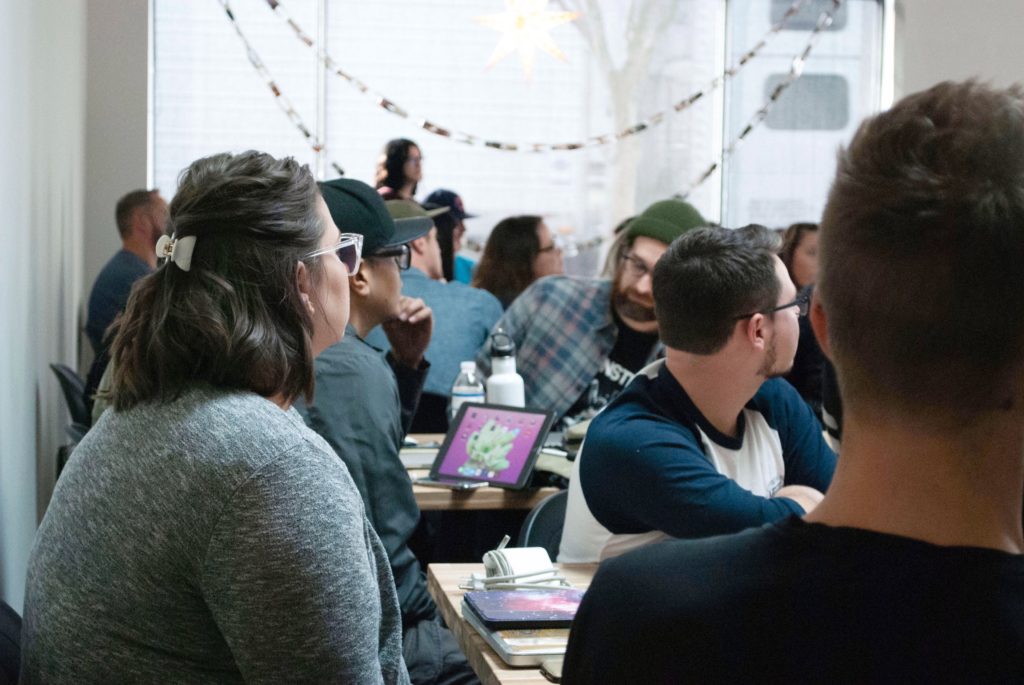 After asking the attendees to give him a band name idea, we ended up with "The Elemental Sea Dragons Experience," everyone's favorite made-up hippie band. Noom then walked us through how he navigates the process of t-shirt design. Starting in Procreate on the iPad, he sketches the imagery and tweaks his typography to fit his composition better. After that, he takes the design into Photoshop for coloring and finishing touches. Then, after the design is complete, he mocks it up on a t-shirt for the client.
Here are some examples of the excellent work our attendees created during the workshop!

Thank you again to Figure 8 Studios for hosting our event, and thank you to all of the attendees who came out to watch a master of design work!
Of course, last but not least, thank you to Joshua Noom for traveling to Jacksonville to show us some tricks of the trade. Here is the final reveal of the piece he created during the workshop. Be on the look-out during future events where you will be able to purchase the t-shirt Noom created at our merch tables!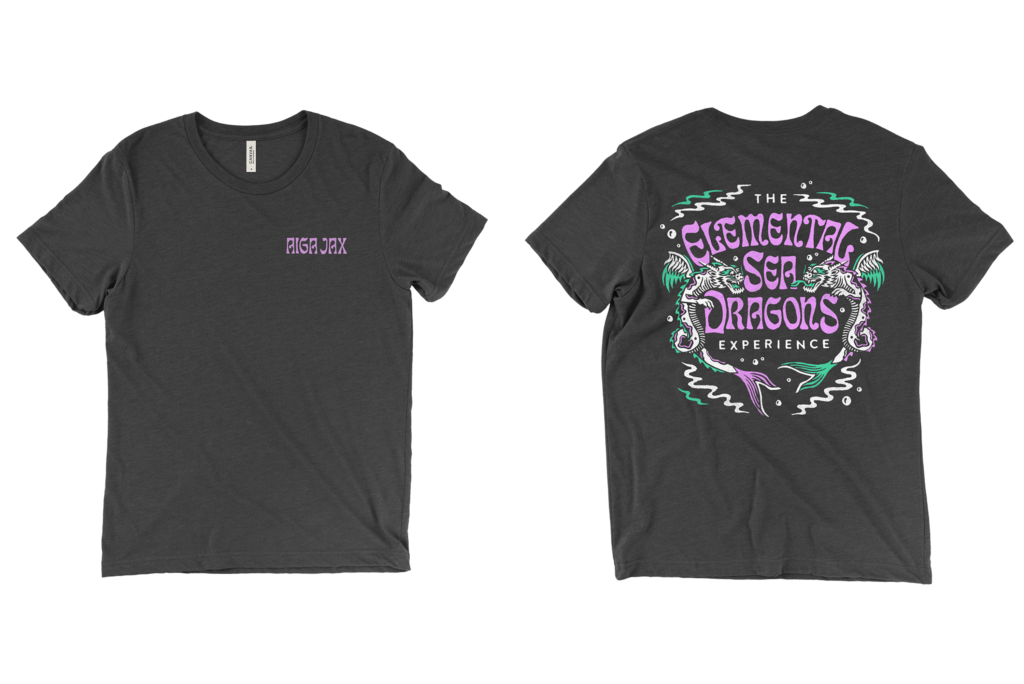 Learn more about Amplify
AIGA Jacksonville's goal is to unite and inspire the creative community. Amplify works collaboratively with local industry leaders across the Jacksonville community to find designers, photographers, and more to share knowledge with their peers. Do you want to develop a new skill? We're on a mission to help our community enhance their creative path. Let us know what you would like our next workshop to cover. If you or someone you know has the skills to share, take a few minutes to fill out our Amplify application.