What is your name and current occupation?
Is poster design something you typically do? My name is Mike Hitchcock. I'm currently a temp graphic designer at Revlon here in Jacksonville. I've created a pro bono poster once in the past and I've done a lot of commissioned illustration work, but print advertising and packaging are what I've primarily been working on in my young career. It's definitely something I would love to pursue more of in the future. Illustration and typography call to me, so I would be very open to it.
How did you pick your song for the Poster Show? Is there a specific time period or memory associated with it?
I chose Handel's Overture for the Royal Fireworks because I have always enjoyed classical music. There's a feeling of elevation, a feeling of something cultured that I obtain from it. It's pure and grandiose. For me it brings back memories of exploring World Showcase at Epcot as a kid. I've always loved history and the idea of seeing the Old World. It conjures up those feelings for me and I felt it could be illustrated elegantly.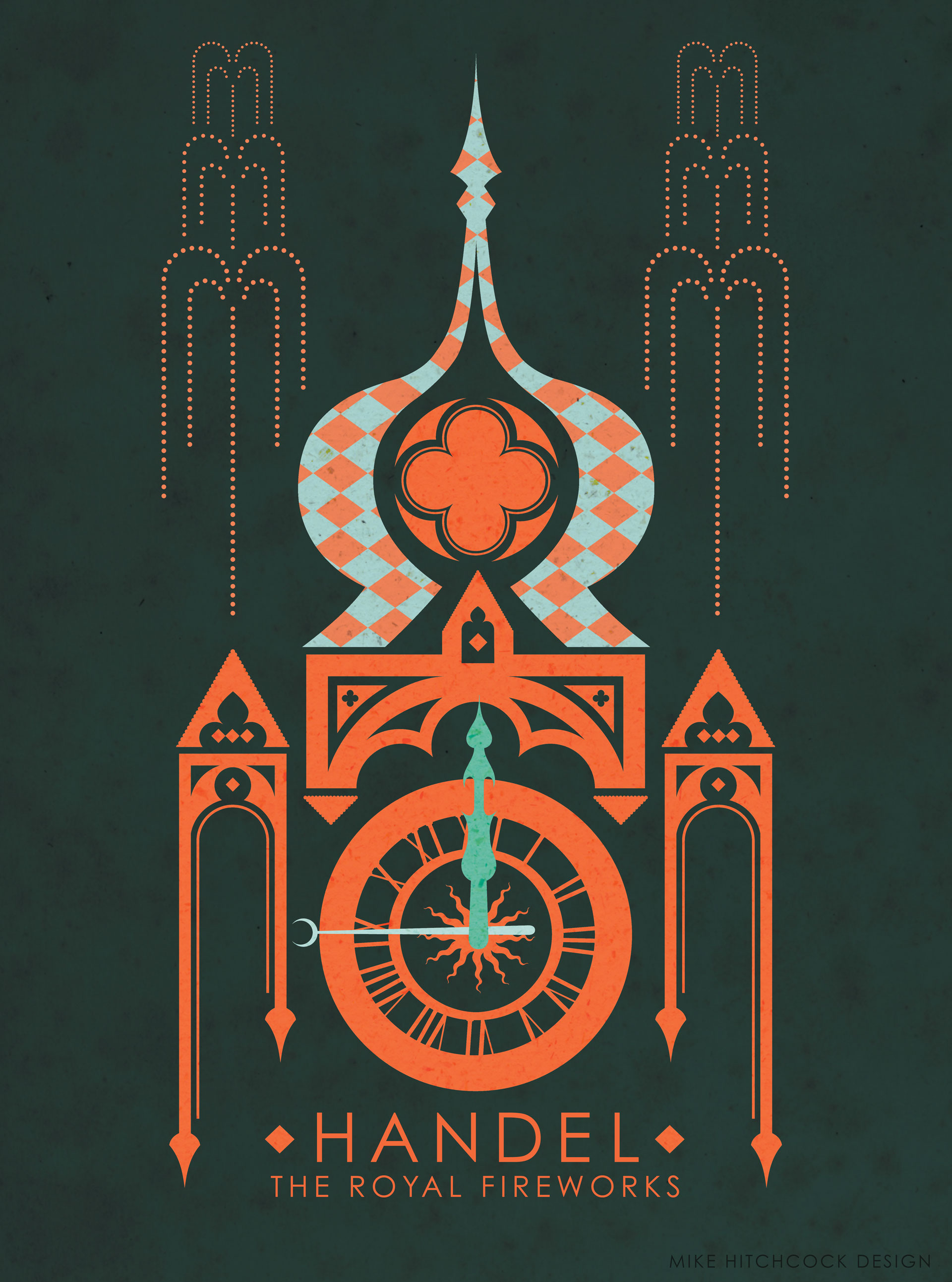 Designing around a song can be broad and challenging. What was your process for creating the poster, and what were some of the choices you made in imagery?
Handel was a German-born Englishman. Because of this I wanted to portray Old World architecture. I wanted the 'Royal Fireworks' to have a sense of place. If I was going to accomplish anything, it was to illustrate a setting. I let a combination of English and German Gothic inspire my illustration. I created an image of a glockenspiel, a German clock tower. I love functional objects. It is something that can be both charming and elegant. I had a little fun with it as well. In my illustration, the clock is set to 9:00 in the evening, the hour that the fireworks begin at Epcot. That was kind of sentimental for me.  I looked at a lot of European illustration to help me come up with a concrete illustration style. German matchbox illustrations were a fun thing to research with their bold graphic cityscapes.
What made you want to participate in Always Summer Poster Show?
Have you made a poster for it before? Shortly before I graduated, I took a poster design class at UNF with Professor David Begley. I learned a lot about conceptualizing and executing poster design from that course. It was brilliant. I illustrated Summertime Sadness by Lana Del Rey. It was an interesting challenge that I ended up submitting to the show after much development.
Can you share what song you've chosen for this year's show or offer any sneak peeks?
'Carnival of the Animals: Aquarium' by Camille Saint-Saens. As you'd expect, the majority submits a lot of contemporary tunes to the summer poster show. Once again I'm trying another classical piece. It's other worldly, and I'm hoping to bring something elegant and surreal. You'll see a lot of French architectural inspiration. I look forward to sharing what I come up with.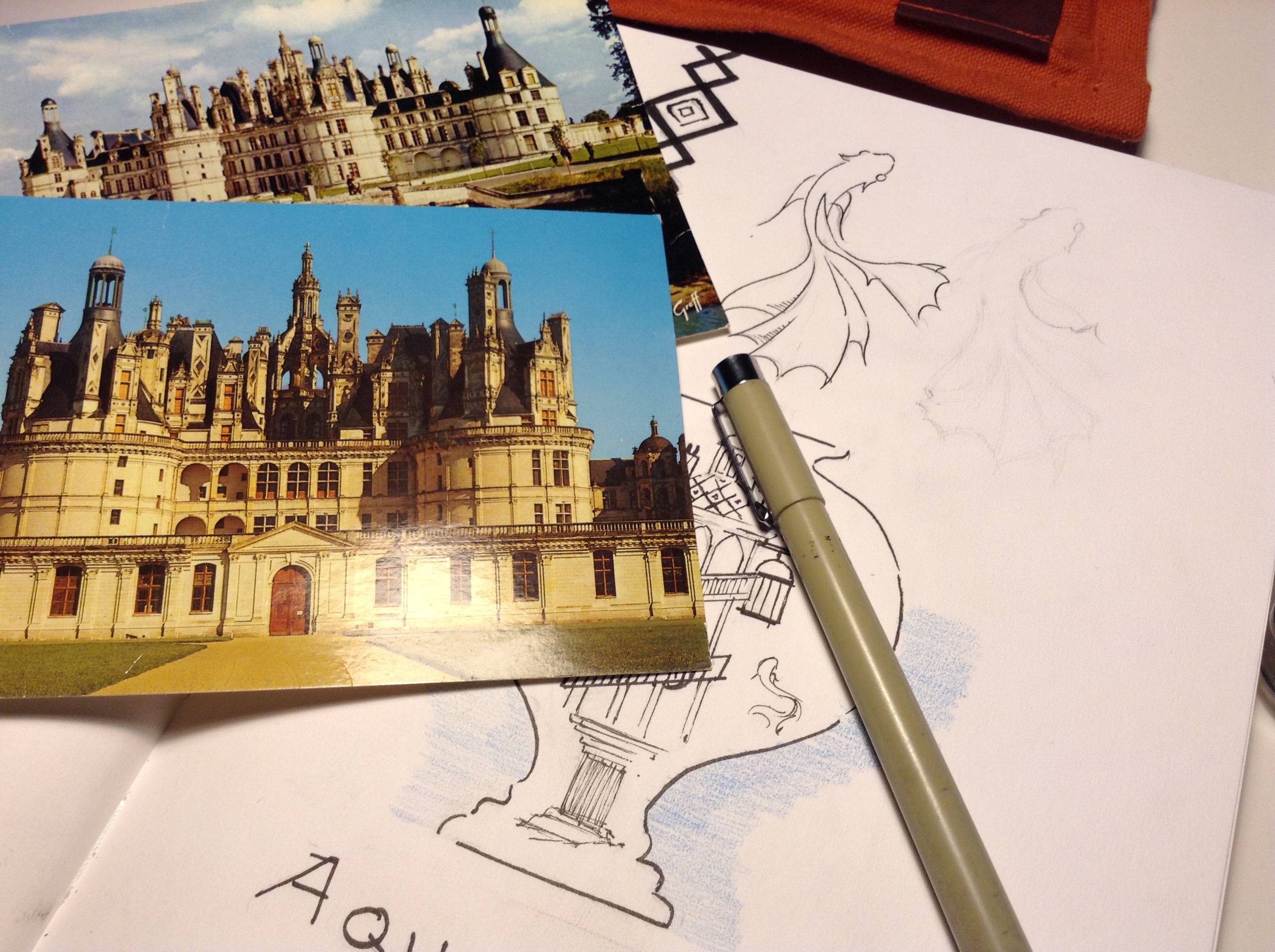 Join us on Saturday, September 26th for AIGA Jacksonville's Always Summer Poster Show. If you'd like to attend the event, reserve your ticket today!
This year's Always Summer Poster Show is sponsored by Print Resources, a leader in printing and graphic design solutions for businesses in Jacksonville, Florida. They help their clients manage their brand through print media and graphic communications. Learn more about their mission and services at their website.
And check out their beautiful poster prints at the show!