What is your name and current occupation? Is poster design something you typically do?
I am Melissa Pierce and I am currently a freelance designer. Poster design is definitely something I enjoy doing. In fact, any project that involves music is a joy for me to work on. I love listening to music and getting inspired by the songs, the artists, and their backstories. Finding ways to depict this visually is always fun.
How did you pick your song for the Poster Show? Is there a specific time period or memory associated with it?
I chose the track Skeleton Boy by Friendly Fires last year because it happened to be stuck in my head at the time. However, I already knew I was going to choose a Friendly Fires track from the start since I had gotten into the the band earlier in the year and had been listening to them all summer. I made a lot of new friends from this fandom and even got to meet one of these friends when I went on a study abroad trip to Ireland last year. So this sense of interconnectivity is definitely present in the poster I created.
Papercut Poster Time Lapse: Skeleton Boy – Friendly Fires from Melissa Pierce on Vimeo.
Designing around a song can be broad and challenging. What was your process for creating the poster, and what were some of the choices you made in imagery?
When thinking of what imagery to create for the poster, I had an internal conflict where the designer side of me was telling me to simplify, minify, and abstract, but ultimately my illustrator side won. I took a literal approach depicting a skeleton, but I strengthened the concept by creating the illustration as a vinyl cutout poster. The song, to me, has a feeling of being pierced through emotionally and becoming transparent, so what better way to show this than cutting a bunch of "holes" into a sheet of vinyl?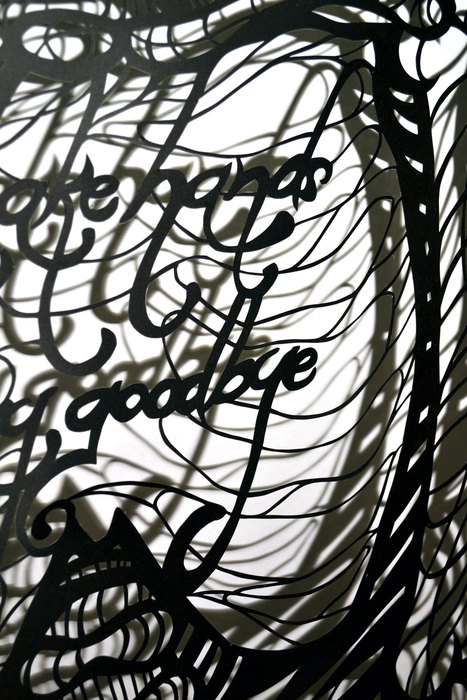 What made you want to participate in Always Summer Poster Show? Have you made a poster for it before?
Always Summer 2013 was my first time participating. I missed out on previous years and had heard how fun the event is, so I made sure to make time create a poster last year (it was definitely worth it)!
Can you share what song you've chosen for this year's show or offer any sneak peeks?
The song I picked out for this year's poster show is called Together Now by THUMPERS. I've only just started brainstorming the concept for it and haven't sketched anything out yet. But to describe the song, it has a lot to do with joyous celebrations, rediscovering wander, and longing to be in different places, which really encapsulates how my summer's been. So we'll see how that translates out visually at the show this year, so stay tuned!