What is your name and current occupation? Is poster design something you typically do?
My name is Katy Garrison, I'm a Graphic Designer. Most of my design time is spent working on logos, apps and websites, but rarely posters, so I look forward to this show every year.
How did you pick your song for the Poster Show? Is there a specific time period or memory associated with it?
I put a lot of pressure on myself when it comes to song choice and that's made me pickier over the years. Naturally it has to have made a significant impact on my summer, but it helps if it's upbeat. With it played at the show, slow and sad or mainstream and overplayed songs just won't do.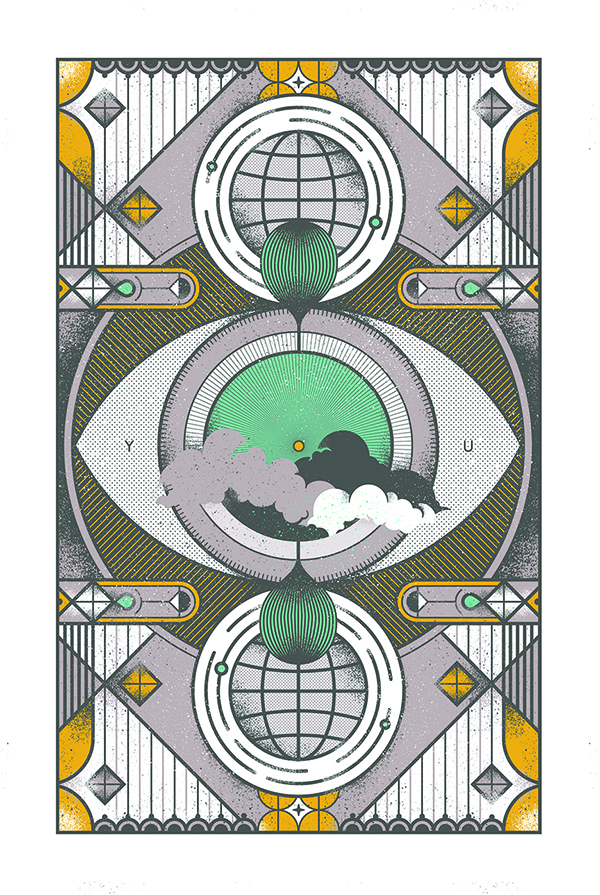 Designing around a song can be broad and challenging. What was your process for creating the poster, and what were some of the choices you made in imagery?
I would love to say that the idea just comes to me when I hear the song, but that would be bullshit.
It's gotten much easier over the last few years, but in the past my process relied heavily on procrastination and panic. I would start by getting serious design-envy after researching other posters and design techniques. When I would finally get to work, I would spend precious time attempting to master a new skill or style that was "absolutely necessary" to execute the design idea in my head.
After a few sleepless nights, I would take a look at my initial design and realize that what I had created was total shit. Then it was back to the drawing board.
It was in the aftermath of one of those 4am breakdowns, that I realized that I should spend less time worrying about the style I wanted and more about the style I have.
I want the song to remind me of a specific memory and my poster to reflect my personal design esthetic. Because at the end of the day, this poster is likely coming home with me, going up on my wall, and I have to live with it.
Katy's Pro Tips:
Don't panic, trust your instincts.
Grunge, noise, and blurs can hide most anything.
When in doubt, typography.
The eraser tool in Illustrator is your bff.
Layers and duplicate files will save your life.
If you wouldn't hang it in your home, it sucks, start over.
Proofread. Then get someone else to proofread.
Get it printed on good paper, it can make all the difference.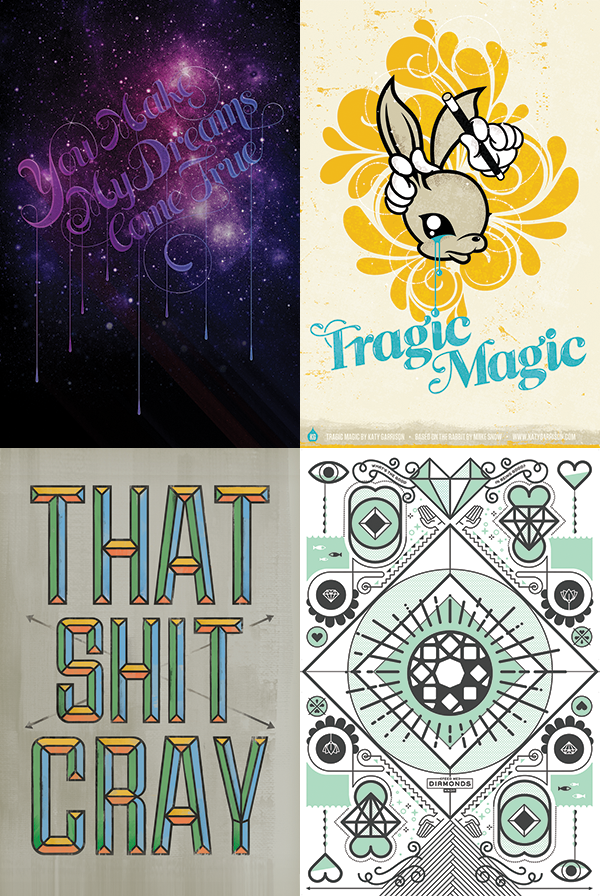 What made you want to participate in Always Summer Poster Show? Have you made a poster for it before?
I've participated each year. I cringe looking back at some of my earlier designs. Regardless of how bad I think a particular poster is now, it's always fun to revisit the song; it immediately brings me back.
Can you share what song you've chosen for this year's show or offer any sneak peeks?
No. Are you kidding me? It's not even on my radar yet, we're still a month away. Shit. We're only a month away. I'll get started next week 🙂
Join us on Saturday, September 27th for AIGA Jacksonville's Always Summer Poster Show. If you'd like to attend the event, reserve your ticket today and save $5!
This year's Always Summer Poster Show is sponsored by Print Resources, a leader in printing and graphic design solutions for businesses in Jacksonville, Florida. They help their clients manage their brand through print media and graphic communications. Learn more about their mission and services at their website.
And check out their beautiful poster prints at the show!