As I was trying to come up with concepts for the cover, I kept getting stuck because there are so many great one-liners and symbols from the movie that I wanted to include ALL of it. When I come up with ideas, I typically start with word association lists and draw simple symbols to represent some of those words. I tend to go for simple imagery/shapes when designing posters because I like the viewer to understand it in an instant. I narrowed it down to a concept with a 6-fingered glove, a crown with things intertwined in it, and then my last idea, which was the one I ended up going with was the Vizzini/Montoya/Fezzik trio, because to me they are the funniest and most memorable characters in the movie.
There is a part in the movie where they are standing in a row like that in the forest, from shortest to tallest so I thought it would be nice to keep that same order. So I drew out the main shapes of their bodies and added the minor details of their clothes, boots and hair that would be on a separate layer. I originally laid out the poster so that the quotes would be in thought bubbles but then decided at the very last minute to incorporate their famous quotes into their bodies so I could enlarge their bodies on the page and make for a tighter composition. Once I had the drawings completed, I watercolored the bottom white layer and the top red/raspberry layer and scanned them in to Photoshop. (This is how I got the ragged edge for all of the shapes.) Once I had set up the layers for their body shapes I went back in and drew their quotes in, painted and then scanned those in as well. I put those in photoshop and then cut them out of the red from their shirts so that we could lay the white layer down first, then the red. Then I added the title and date info, and done!
Overall, I had a lot of fun doing it, thanks Andy for inviting me to design it and organizing these movie nights, they make me happy. (I'm still hoping they decide to do Teen Wolf one of these days.) 🙂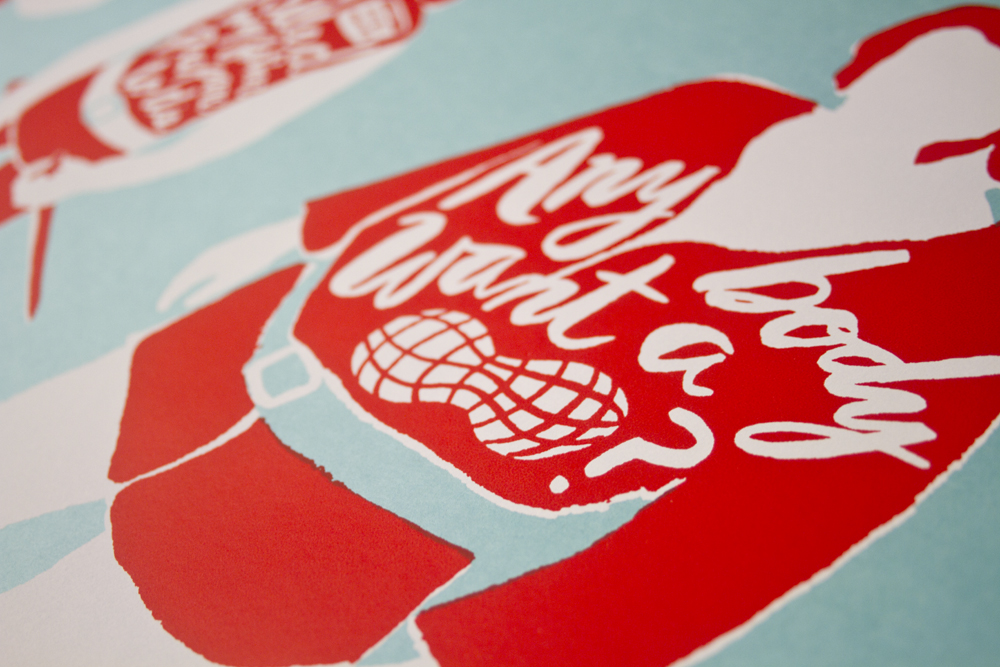 Karen Kurycki i s Jacksonville based designer and illustrator. You can learn more about her by viewing her recent AIGA and Wacom Technology sponsored video here. You can also check out her website at cmykaren.com.