AIGA Jacksonville's 30th annual portfolio review brought together emerging student designers and seasoned industry professionals for a day of one-on-one reviews that culminated with a design competition. The well-attended event took place on Saturday, April 13th at the FSCJ Advanced Technology Center.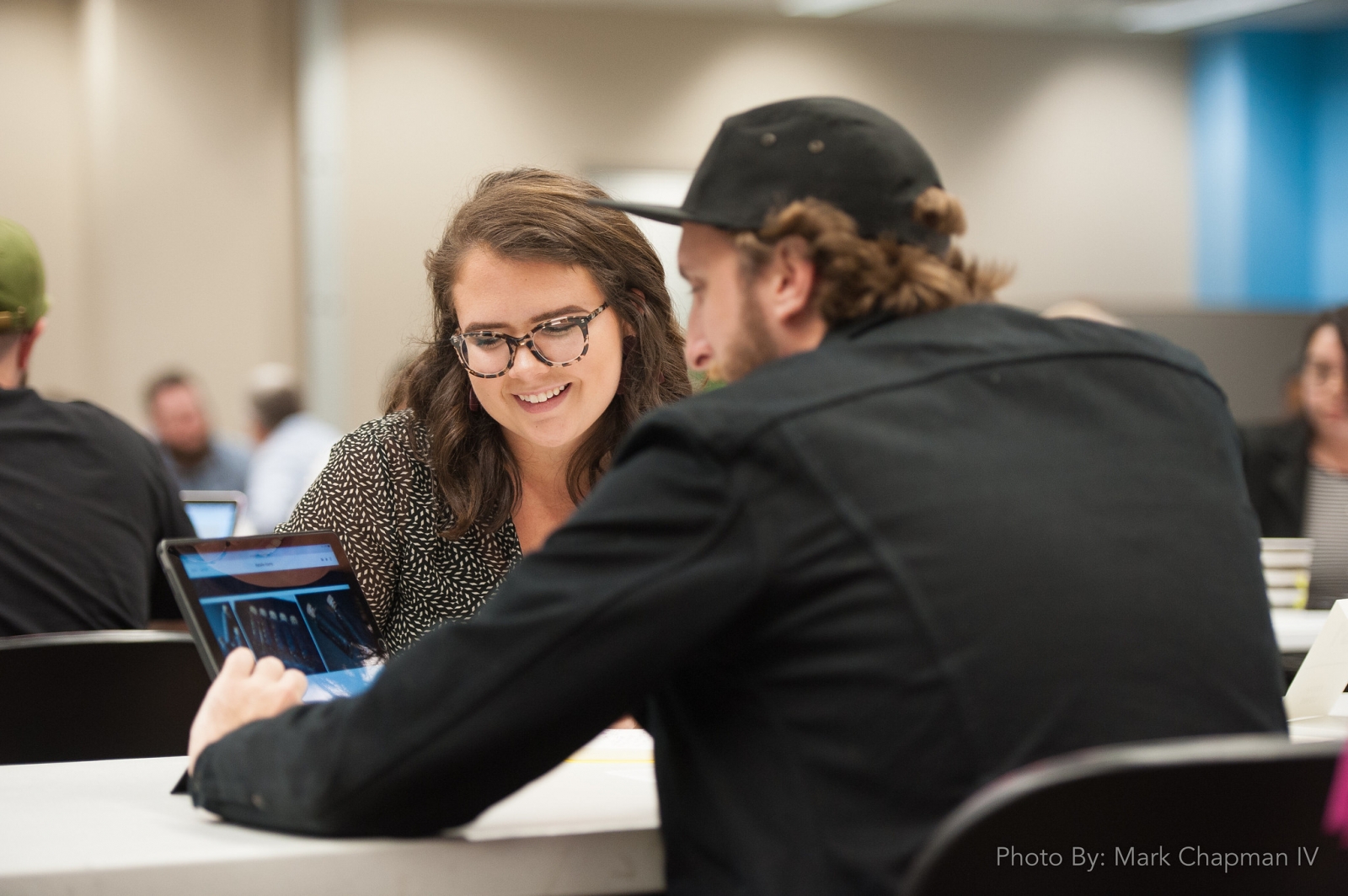 The event brought together more than 60 students from FSCJ, Jacksonville University, University of North Florida, Flagler and SCAD— and 50 professional reviewers.
The design competition consisted of two categories—print and digital/hybrid.
The print category had 14 entries and resulted in KT Hearn (UNF) winning 1st place, Ali LaPore (UNF) in 2nd place, and Harlee James (UNF) in 3rd place.
The digital/ hybrid completion consisted of 20 entries. Savannah Walker (SCAD) took 1st place, MacKenzie Stover (SCAD) in 2nd place, and Sarah Langston (Flagler) in 3rd place.
The competition was tough, but the wonderful judges did a great job narrowing down the best portfolios being reviewed.
The panel consisted of a variety of designers with a wide range of experience. The panel of judges consisted of our guest speaker Jesse Reed (Owner of Order), Jen Arevalo (AIGA Jacksonville president, TIAA Bank Senior UX designer), Ian Latchmansingh (St. John & Partners, UX Director), Ryan Tempro (M.C. Pressure, Director of Imagination), and Wes Harsch (St. John & Partners, Art Director).
On Friday, April 12th, Jesse Reed set the Portfolio Review Weekend into motion as the guest speaker.
An Evening with Jesse Reed was held at MOCA where there were 75 people in attendance. During his speech titled "This is one way to do it.", Jesse spoke on several topics such as his early designs in college (University of Cincinnati College of Architecture, Art, and Planning) to his early work as an intern and eventual associate and partner at Pentagram.
Along with the background on his early college work and experience, Jesse also shared his work with his Graphic Standards manual projects and how he and his colleague Hamish Smyth decided to branch out and co-found their own design office called Order—along with a graphic design bookstore in the office forefront. 
The Portfolio Review Weekend continues the tradition of bringing together local students, designers, and professionals for a weekend of creative energy and community amongst designers and artists.
Thank you all for your support and attendance because YOU make this event a success every year! We couldn't have pulled this event off without you, and we hope to see you next year for the 31st review.
You can see some wonderful pictures taken by Rain Henderson, Katya Cajas, and Mark Chapman IV on Flickr!
An Evening with Jesse Reed: https://flic.kr/s/aHsmACoHtk
Portfolio Review: https://flic.kr/s/aHsmxC85YS
Brian Oakley
Education Committee
Instructor, FSCJ
Production Graphic Artist, Interline Brands